Who I Am And Why You Should Listen To Me
I have been a full time Personal Trainer, Nutrition Teacher, Health and Wellness Director, Group Fitness Instructor, Aqua Fitness Instructor, Bootcamp Instructor (indoor and outdoor), Crossfit Coach, Fitness Sales Director and currently work as a Fitness Marketing Director and still train clients one on one. I have also tried and failed at enough things in health and fitness to have a pretty good idea what works and where things are headed in the 2020s.
My Story
I was a cook and later a restaurant and bar owner in the 1990s with all the late nights, long hours and party lifestyle that came with it. After experiencing both great success and dismal failure and burnout I realized I wanted to change careers. I got excited about fitness and bodybuilding in 1999 and jumped all in to the fitness lifestyle.
When I was in my 20s I wanted to be big and muscular.
When I was in my 30s I wanted to be toned and ripped.
Now in my 40s I just don't want to get injured so I can keep exercising and enjoying a good quality of life. It's funny how things change for us as we get older.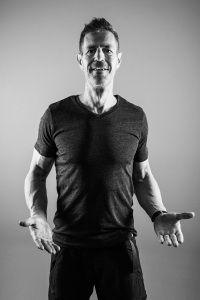 How Am I Different
I decided I wanted to create routines that were efficient and could help people get maximum results in the minimum amount of time while avoiding injury because this is what I want for myself and is how I train.
Do you want to workout Smarter instead of Harder?
I used to be a big believer in the "No Pain, No Gain" philosophy. Now I'm not so sure about that because over the years I have found out that it is possible to make gains without unnecessary pain and suffering, without the maximum intensity workouts that I used to think were so important.
What To Expect From My Personal Training:
Muscle Toning
Unstoppable Strength Gains
Core & Abdominal Toning
Effortless Flexibility
Balance Improvement
Coordination & Agility Improvement
Lots Of Bodyweight Exercises
Dumbbell Training. I love dumbbells and free weights.
Only the best, most efficient exercises make the cut for my training routines which are designed for a balanced and complete fitness while avoiding injury.
Train with me online and I will reveal my secret training routines that I have used for years to get hundreds of clients shredded all over the world in and out of the gym…